For Today...

October 20, 2008





Outside my Window...
It's *beautiful*!! The sun is shining... the current batch of clothes are hanging on the line... a
gorgeous
breeze is blowing.... and the air smells fresh and crisp. - It's actually cool enough to have all my windows open!


I am thinking...
what can I do for my hubby for Christmas??

I am thankful for...
all the fun we had over the weekend... smoothies, fruit stands, lunches with family, and fellowship with friends...

From the kitchen..
I have pureed pumpkin I need to use up... which I am thinking I am going to make into whole wheat pumpkin muffins. We also just go a beautiful spaghetti squash (among other yummy items) at the farmer's market, that I can't wait to use!
And at this moment, DH is in the process of juicing carrots for us! (yum!)
I am wearing... a black camisole... blue gym shorts... plaid apron... hair in a loose ponytail... barefeet.

I am reading...
my script for the church Christmas play (still working on that memorizing... thankfully I was extended a week).... Christmas songs in the hymnal (trying to see which ones can be changed into the key of C and still remain in the one octave...)


I am hoping/praying...

hoping.... I'll get these tables for Christmas...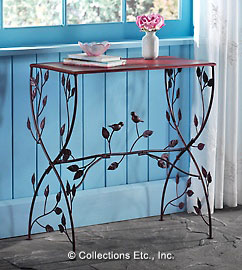 Praying... DH's interview goes well on Thursday.

I am creating...
ideas for Christmas gifts... Christmas music for bell practice on Weds.

I am hearing...
The birds signing, the wind blow through the trees, the clothes flapping on the line... and law mowers being run, faintly in the distance.


Around the house...
I just love the energy I get when there is fresh air blowing through the house! The baby is bathed.... the laundry is slowly getting washed and rotated on the line... the dishes are mostly washed or in the dishwasher (which was just run)... and I just got back from a nice ride on my new bicycle!!
One of my favorite things...

the fruits (& veggies) of the season... white nectarines, pears, apples, sweet potatoes, squash, sweet corn, and pumpkin!

A Few Plans For The Rest Of The Week...
In-laws coming over tonight to watch a movie.... LEARN Wednesday afternoon... hubby's interview on Thurs morning... [Church] Youth Activity Saturday night... Servant Appreciation Day (at church), Sunday.
Edit (Tues):
I just found out we are going to see Presidential Candidate McCain on Thursday afternoon! (cool!)... We might go to the Earthbox place on Saturday morning... and we might get together with JAmes one more time this weekend, before he goes back to CA.
Here is a picture thought I am sharing with you...

KB - getting ready to go on our bike ride a little bit ago...