I think I've figured it out what I want to do for KB for Christmas!! And it only took a beautiful day, a
[free!] Starbucks cappuccino
, and some awesome crafting books to figure it all out!
DH was home *all* day... so after stopping in to Best Buy to make a return & check on the job application B put in earlier today.... we spent a good part of the afternoon walking around Barnes & Noble, drinking our coffee (I love coffee!!), and looking at all the fun books. With Christmas coming up quickly, the economy being as it is.... a lot of people seem to be looking for frugal alternatives for Christmas gifts this year. I am especially intrigued by how many people are considering making homemade gifts... which was apparent by all the neat crafty books! Not knowing myself, what I was going to do for KB for Christmas... and not really wanting to get more toys for KB (esp not battery-eating, plastic ones - we're trying to stick to the "simple is better" thing)... I found myself leaning towards also making something. But what? Then I found it, in this book....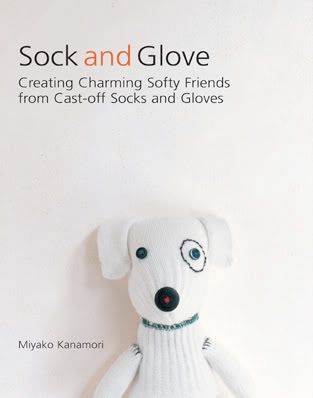 Sock and Glove: Creating Charming Softy Friends
from Cast-off Socks and Gloves
by Miyako Kanamori
Publisher: HP Trade
62 pages
ISBN-10: 1557885168
ISBN-13: 978-1557885166
Sock and Glove tells us the story of an old sock and glove and how "Mom" turned them into Billy the dog and Marcus the monkey. Then "Mom" goes a little nuts and makes Rabbit, Bear, Dog #2, Cat, Sheep, Girl, Mouse, Pig, Fish, Panda, Elephant, Zebra, and (my favorite) the little red Bird...
So then I had my idea... what if I made a few of these little birds... and then buy Heather (my wonderful crafty sister) some brown yarn to knit or crochet a "bird's nest"?? So that's my idea... what do you think??
Now all I have to do is get the book [oh*twist*my*arm!]... find some red socks... and then figure out something I can do for my hubby!!! -- I am SO excited!!