For today, since I was unable to get it done yesterday....
For Today...
November 4, 2008
(election day!)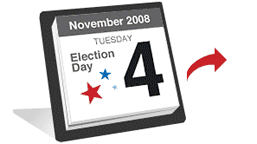 Outside my Window...
Our new McCain sign! Weather wise, it's slightly overcast, and seems to be getting cooler as the day wears on!
Just how amazingly tiny KB was... and how it really wasn't that long ago...
I am thankful for... Hubby having a job, and being willing to work such long, crazy hours (26, so far this week!) just to provide for us! - That God is still on the throne, and is way bigger than anything or anyone that happens tonight!!
I am thinking...
What the next four years are going to be like, depending on who wins tonight... kinda scary!
I am wearing...
brown skirt, blue shirt, barefeet, hair (desperately needing a wash) pulled back in a ponytail, no makeup.
I am reading... my script for the church Christmas play (gotta get those lines down!).... my new cooking magazine I just got in the mail (holiday treats - yum!).... and soon, the election results.
From the kitchen...
Just ate a late lunch of left over chili & biscuits from last night. Tonight if hubby has to work late, I will probably just make a big salad, and use up the lettuce & tomatoes that need to be eaten.
I am hoping/praying...
God's will be done tonight, in the election results!
I am creating...
nothing (I am so boring!)
I am hearing...
The dog barking at something outside (again!)... KB wanting to get up in my lap.
... the washer running in the garage.
One of my favorite things...
Around the house... The dog is driving me crazy, and therefore is spending the day outside... and KB is in a "needy" mood (I think she's teething).... Diapers are ready to go out on the line... Sheets are in the dryer, and then are going to need to be put back on the bed.... I finally got all the dishes done (goodness there were a lot of them!).... the counters are mostly cleared off, and wiped down... The kitchen floor is in desperate need of sweeping/mopping... carpets are needing to be vacuumed.... more laundry needs to be run... the bathrooms probably need to be scrubbed.... I also really need a shower.... and I have a headache, major chocolate cravings, & no energy to do any of it.
A Few Plans For The Rest Of The Week...
DH is working in Tampa tomorrow. I have Babywearing in the morning (maybe), LEARN tomorrow afternoon, and church tomorrow night. Thursday, I am going to watch Miss Zoe. I have no idea what Friday holds... and Saturday we have a wedding to go to. Sunday morning we have a breakfast at church. I also have another Christmas program practice.. and yet another offering. Sunday also starts our Missions Conference!
Quote...
The sun's gonna shine and the rain's gonna fall, and in the end you might get burnt or wet, but that's life. So dance in the puddles and bathe in the sun, and at the end of the day, smile. Everything's gonna be alright

.

-author unknown

Verse...

"Blessed is the nation whose God is the LORD; and the people whom he hath chosen for his own inheritance."
~
Psalm 33:12
"Be not deceived; God is not mocked: for whatsoever a man soweth, that shall he also reap.
"
~Galatians 6:7
Here is a picture thought I am sharing with you...
My brother-in-law campaigning locally, with his Young Conservatives group, on Monday!
It warms my heart to see young people so proactive with the affairs of our country!!!