That's right,
Purple
!! I am SO excited!!! I have forever said, that of ALL the colors VB has had (pinks.. reds... greens & blues of all shades... brown... yellow... and even orange!), she has yet to host one which depicts my favorite color... purple!! And now she has!! ~ I am in love!!! My wish has come true!
Honestly, Hope Garden would have seriously had a possibility of contending with
Mod Floral Pink
as my favorite "personal" color
(iyou know, when I actually begin to carry something *other* than a diaper bag... hee,hee!)
.... but now, it's Purple Punch all the way!! Hmm... now that I have my "dream color," now I need to to pick out my "dream style"... and start praying hard!!
(If only they would make B's wish come true.... make them cheaper - lol!)
---
Currently, "my pattern" is the "Vera" bag, in the recently retired, Petal Pink... which someone generously gave to me, as a baby gift!! ~ And honestly, for a [baby girl's] diaper bag.... it's pink, flowery, and... perfect!! ~ I LOVE it!!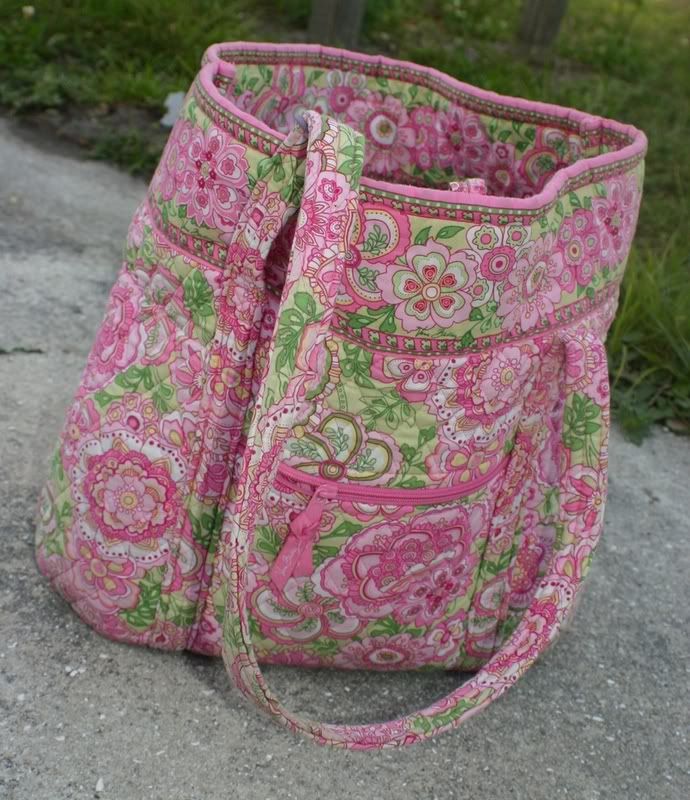 The only downside, is that is is most definitely pink, and will NOT work, if we are ever blessed with a son! In which case (given I have the same generosity bestowed on me... or find myself insanely rich).... I have always said I would either get the [almost too] popular, Java Blue.... or Windsor Navy.....
Then they retired "Windsor", and brought out the "Mod Floral" and "Mediterranean" lines, which each have a blue....