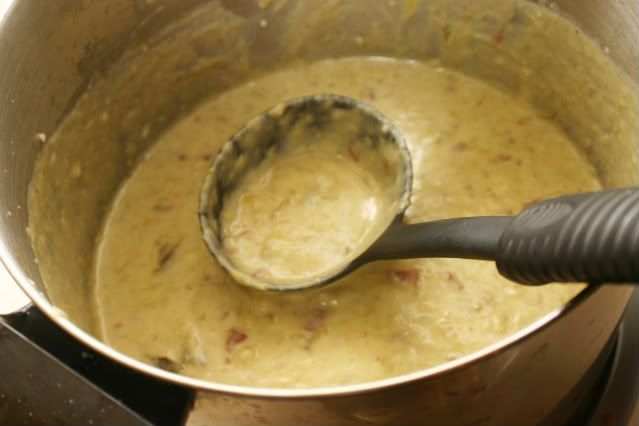 The first time I made soup was about six months ago. Someone gave us some leeks, and having never cooked with such a vegetable... I naturally turned to one of my favorite recipe websites,
AllRecipes
, for help. Since then I have made it a handful of times.... as it's become one of my husband's favorites. -- Actually, he once even compared it to a soup he likes at Olive Garden. LoL! But while I wouldn't go quite that far.... it is a delightfully creamy & deliciously filling soup!
Ingredients

½ cup Butter

(I half it, as the full amount makes it too greasy IMO)

2 Leeks, sliced

Salt & Pepper, to taste

1 Quart (4cups) chicken broth

(I imagine you could sub vegetable broth, to make it vegetarian)

1 tablespoon cornstarch

(or flour, arrowroot powder or thickener of choice)

4 cups Yukon Gold Potatoes, pealed & diced

(though I use/prefer red potatoes .

Also, I hardly ever measure out 4cups... I usually end up using more.



2 cups cream

(If I don't have cream, I have been known to use raw milk, or half/half... or mix sour cream or yogurt with some water)

onion powder

Garlic (fresh or granulated)

Optional Additions:



Instructions:

In a large pot over medium heat, melt butter.





Cook leeks in butter with salt & pepper until tender - stirring frequently (about 15 mins).
Stir cornstarch (or your choice of thickener) into broth





Pour broth/thickener mixture into pot
Add potatoes
Season with salt, pepper, onion powder & garlic
Bring to a boil






Pour in cream
Reduce heat & simmer at least 30 mins - until potatoes are tender
If you wish to add kale, add about 20 mins into simmering.
Add (pre-cooked) Ground beef or Sausage!
Season with salt & pepper - Serve!

Sometimes I will even run the hand blender through it before serving it up, to make a smoother soup....